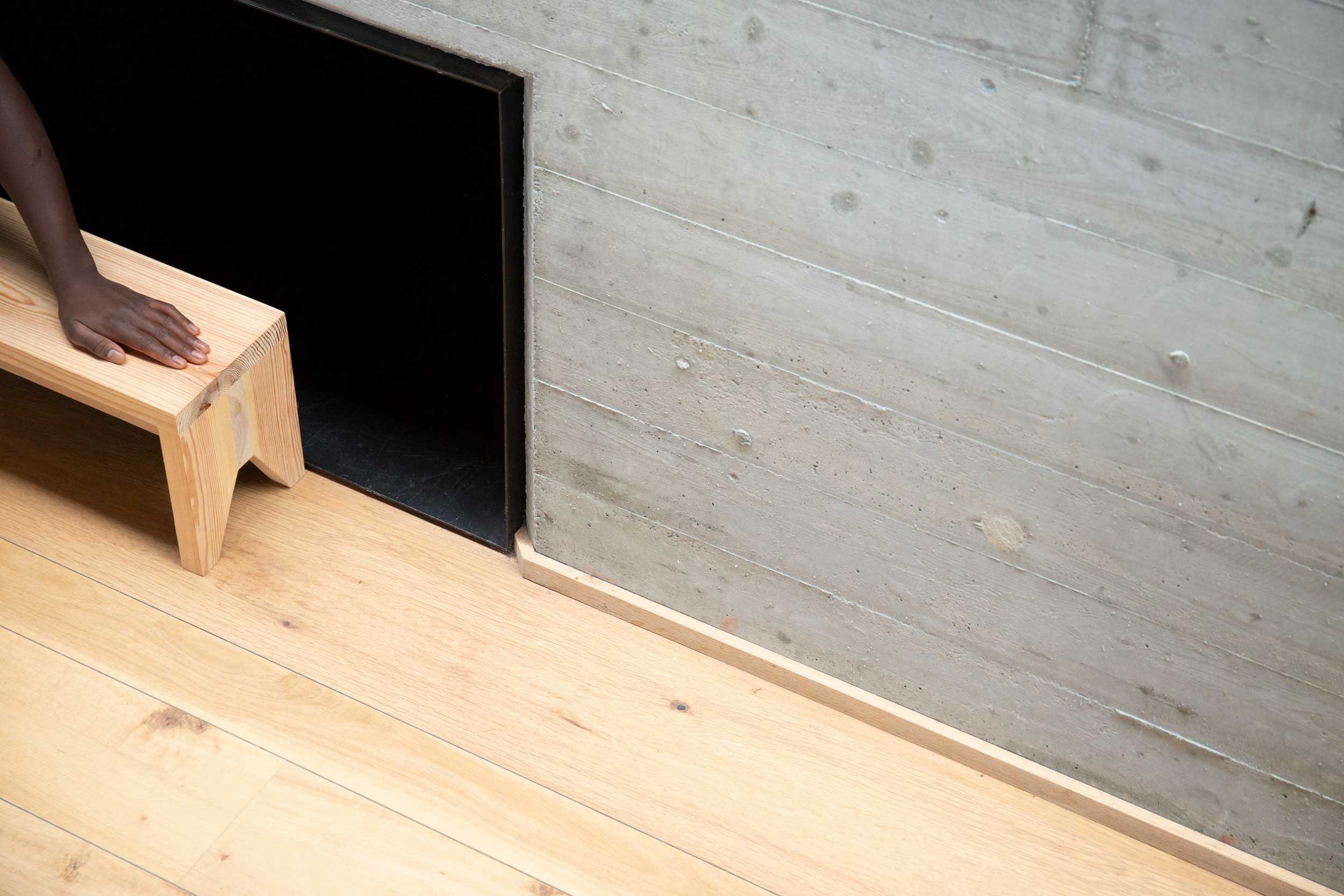 CONSTRUCTION CLOSE-UP OF WOODEN FLOORS AND INTERIOR COVERINGS IN THE LANDABURU BORDA COUNTRY HOUSE
Architects: Jordi Hidalgo Tané
Location: Bera, Spain
Photography: Ronan le Vacon
Material: NATURFLOOR-W, NATURPANEL-W
Finish: Country Oak Country Oak
With the Landaburu Borda country house, owner Gorka Ibargoyen has formed an alliance with the site architect, Jordi Hidalgo i Tané, and PARKLEX PRODEMA'S installers, to resolve all joints between materials in the country house in a respectful way, considering each of the material's type.
There has been a good reason for the selection of Country Oak: oak is one of the most present species in the forest around the property. Its particular toasted tone, along with knots and grain, create constant dialogue with the marks of the reinforced concrete, which sometimes provides a glimpse of an oak leaf that the wind has left while building the house, printed on its surface for posterity.
Each PARKLEX PRODEMA product has been especially chosen for its technical qualities: the NATURHARDPANEL-W floor has excellent blow, scratch, and moisture resistance, the NATURPANEL-W panels are maintenance-free, and the NATURHARDPANEL-W panels are especially formulated to resist frequent contact with water. The same wood species can be used for all kinds of indoor coverings, so it is easy to achieve perfect continuity between materials, from kitchens to rooms, bathrooms, and even inside shower stalls.
In the rooms, the corners of the wall separating the bedroom from the bathrooms have been made with acute finishes. This creates a wooden volume with visual weight similar to solid wood.
On the other hand, attaching the panels with a lath to the wall means that the joint between the walls and floors is aesthetically silent and does not require skirting.
The design, drafting, and thorough execution of each detail is a bet on the future, where the wood can freely expand and contract throughout its entire life cycle without compromising adjacent elements.